Last Updated on 12 November 2020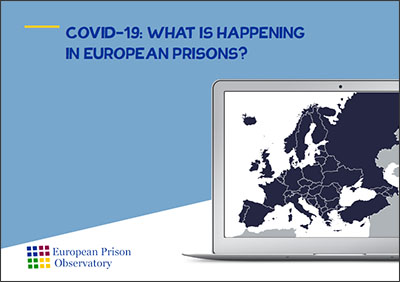 The following information on prisons in different European countries has been collected in the last few weeks thanks to the work of the European Prison Observatory members. Please note that the situation is constantly changing and that this information might already be out of date.
The information presented in the report published here and in the map shown below will be updated in the next days.
Read Report 25.03 - Read update 03.04 - Read update 10.04
Read update 17.04 - Read update 24.04 - Read update 30.04
Read update 08.05 - Read update 15.05 - Read update 26.05
UPDATE #10 AUSTRIA, September 29th, 2020
UPDATE #11 ENGLAND & WALES, October 5th, 2020
UPDATE #12 NORTH RHINE-WESTPHALIA (GERMANY), October 7th, 2020
UPDATE #13 GREECE, October 9th, 2020
UPDATE #14 HUNGARY, October 12th, 2020
UPDATE #15 ITALY, October 15th, 2020
UPDATE #16 PORTUGAL, October 19th, 2020
UPDATE #17 ROMANIA, October 14th, 2020